Julio Cesar from QPR – who is Julio Cesar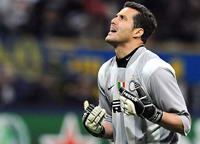 Júlio César Soares De Espíndola who is fondly known as Julio Cesar was born on 3rd September 1979. He is a Brazilian footballer and plays for the Queens Park Rangers (QPR). He is also the goalkeeper of the Brazilian national football team and has about 65 international caps to his name. He began his professional career in the year 1997 with the Brazilian football club Clube de Regatas do Flamengo and was picked as the understudy to the veteran Clemer. By the year 2000 he had developed his skills to an extent where he was considered to be the first choice for the goalkeeper by Rubro-Negro and with this help went on to win the Campeonato Carioca not once, but four times.
These skills of Julio Cesar were awarded when he was picked as the first choice Goalkeeper of Brazil for the 2004 Copa America. In the year 2005 he moved to Chievo Verona and was there for 6 months, but hardly got a game as they had another goalkeeper as the first choice. Then in 2005 he signed a deal with Internazionale for three years, a deal which was estimated at €2.45 million. He stayed on till the year 2012 with Inter and on 29th August 2012 Julio Cesar announced that he has signed a four year deal with Queens Park Rangers and therefore moved to the English Premier League.
Laurels Of Julio Cesar From QPR
The International Federation of Football History and Statistics had named Julio Cesar as the third best goalkeeper in the world behind Iker Cassilas and Gianluigi Buffon in 2009.
In the year 2009 and 2010 he was awarded the Serie A Goalkeeper of the year award.
In 2009, he was nominated for the Ballon d'Or and was voted into the 21st place. The only other goalkeeper to have been nominated is Casillas.
In 2009, Julio Cesar was chosen as the best player of 2008-09 season by ESPN Brasil
His skills have resulted in him having a huge fan following, not just in Brazil, but all around the world and when the top names of goalkeepers are discussed you can be rest assured that the name of Julio Cesar will be there. With the recent good performance in QPR, Julio Cesar of QPR has become a favorite among the fans of the Queens Park Rangers.